admin
Detroit Has Heart Covid-19 Response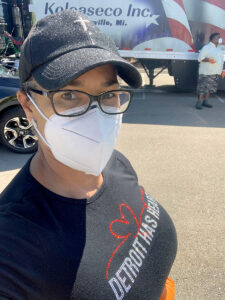 We hope you are doing well during these times of great change in many areas of our lives.  Our last communication was in February after Detroit has Heart's successful fundraising dinner was celebrated with 220 guests at the RenCen.
Within weeks of the gala and days of our Resource Center proposal being approved, plans all over the world were suddenly placed on hold to fight the spread of COVID19.
Detroit was at the epicenter of Michigan's outbreak and cases were  growing at an alarming rate among the demographic we serve, including essential workers who could not afford to be off work during quarantine.  It became very clear that people needed proper PPE immediately, but it was scarce and at times overpriced.  This presented an even greater challenge.
We quickly leveraged our partnerships and resources to gather and donate over 500 surgical masks, 1200 KN95 masks, 400 face shields, 10 boxes of gloves, and 5 contactless thermometers.  These items were donated to essential workers, nursing homes serving the high risk, veterans, and the homeless.
While food assistance requests increased we were not able to open the food pantry during the quarantine.  So with the help of local farmers and grocery stores, 100 fresh produce boxes were donated to families in need during the early weeks of quarantine.
As we prepare for our annual Thanksgiving Turkey Drive in partnership with Former NFL Players, and Christmas Acts providing essentials for Detroit's homeless, we realize this has been a most trying year, and many will need assistance in the days to come.
Until we are able to open safely, we will work through our agency partners to provide proper PPE, food, coronavirus safety information, and testing resources to those in need.
Thank you for standing with us during these unprecedented times.  As we forge ahead to provide emergency relief for those in need during personal crises, we are grateful to our volunteers, agency partners, Board, and members of Team 15 for your encouragement and support.